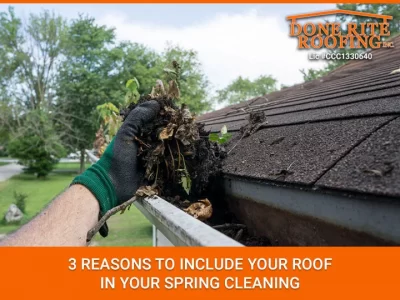 Ah, spring is here and it's time to clean out the cobwebs and get a fresh start. You may be airing out the closets and cleaning out the garage but while you're at it, don't forget your roof. Your roof is protecting the most important investment of your life your home.
Here are 3 reasons why you need to give your roof some cleaning love.
1: Wet leaves can create leaks
April showers may bring May flowers, but they also mean lots of extra rain on the roof. One way that roof leaks start is when leaves gather in nooks or crevices. If they're not removed, they can form little piles that hold water and, eventually, those piles of wet leaves and tree debris create pockets of water that can cause damage to the roof and leaks into the house.
2: Mold and mildew are not good for your roof
If you live in a warm, muggy climate as we have in Florida, mildew and algae can grow just about anywhere. Dust and dirt particles, especially from the trees, can accumulate on your roof which means mildew and sometimes algae on the tiles. Trees are great for providing shade, but they also make for lots of debris which can cause problems.
The best thing to do is call in a professional to trim the trees back and lift the branches away from the roof. Once that's accomplished, hire a roofing company that knows the proper procedure for cleaning any kind of roof. Be sure that they are fully covered by insurance and have a good reputation in the community. They will want to pressure wash the roof and you need people that are experienced so that no tiles are broken or cracked during this process. This goes double for rolled tile roofs.
3. Your roof is beautiful – make it shine
If nothing else, make your roof part of your spring cleaning to keep it beautiful. No matter what type of roof you have, it adds to the aesthetic of your home. Don't let it get dingy and dirty-looking. Your home is your sanctuary. If you bother to take pride in the interior and exterior of it, keeping the landscaping up, trimming the trees, and caring for the foliage, don't ignore the roof. It's there to protect you. Keep it clean, beautiful, and safe as well.
For any and all your roofing needs, consider calling Done Rite Roofing. We have over 20 years of experience in the Tampa Bay area and are fully licensed and insured.
Roofing is what we do, and we get it Done Right!
Find us at www.doneriteroofinginc.com
Image credit: John Wolf