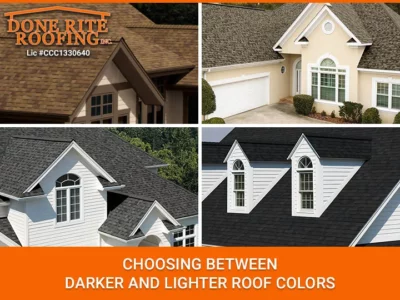 As homeowners, people are often puzzled by the question if they should be choosing a dark or light roof color for their house. Your selection should be based on essential design considerations. Some important ones are:
Contrast
The light or dark design of your house including its roof color should consider the idea of contrast. When opting for a light-colored trim or siding, consider using a dark roof color and vice versa.
Monochromatic
Trending throughout the 90s, monochromatic is contrary to having contrasting combinations to the design palette of the exteriors. An example would be using a beige roof, with beige trim, and beige siding on the roof.
The environment of Your Locality
The choice of color is highly dependent on the environment or the aesthetics of your locality. For instance, when living in the colorful locality of Central Florida, you cannot think of having a dark roof. Teal or pink is preferable for a better exterior design element. If you live around the hilly part of North Carolina, a white roof will be an ideal choice.
Functionality
People often believe dark colors are warmer while light colors are cooler for a house. For designers it might not be appropriate terminology as proper insulation in both cool and warm climates means the interiors of your house will not experience any climate impact based on the outer colors you have selected. Hence, it's better to choose a roof color as per your preference. You can consult an experienced designer for the perfect level of insulation.
Another trending idea is using "cool" shingles along with special solar-reflecting granules of dark colors.
If there are no limitations or specific requirements of your community housing codes or HOA, you should be choosing the colors of your house as per your preferences.
Concluding Remarks
The roof color of your house should be exactly your choice irrespective of others or design books mentioned. The selection of roof color that complements the exterior palette is an important decision and you should do in-depth research. It could be driving through your neighborhood, searching for ideas online, checking out trending combinations, using digital tools to mix and match ideas that suit your style and mood, etc.
It's best to see examples of both light and dark roofs to visually differentiate the impact they have on a house. Doing such things will put you in a better position to select the perfect color that complements your house. If you are looking for a professional to guide you and reduce all confusion, you may consult Done Rite Roofing, Inc. They operate in and around Clearwater, FL, and have an experienced team of professionals.
Picture Credit: Owenscorning