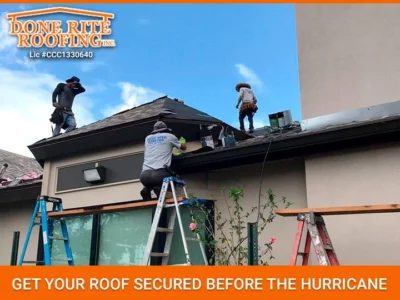 Hurricanes are destructive and unfortunately, cannot be stopped when they begin. Whenever the hurricane season comes along, it is best to prepare yourself and your house from getting the brunt of its effects. Roofs are especially vulnerable during this time because even if debris and branching flying around do not impact your roof when a hurricane comes along, winds coming at high speed will do so. There are five ways to secure your roof and prevent an angry storm from ripping it off your building.
Strengthen Your Roof Flashing
When it rains, it is the roof flashing that keeps rain from coming into your building. Improving your flashing before the hurricane season will prepare you and can ultimately save your roof. If you are wondering where your flashing is, you can find this metal at the point between your chimney or vent and your roof's weatherproofing.
Use Construction Adhesive to Hold Down Your Rafters
Rafters and trusses can easily fly away during the hurricane season, even if the roof does not. Since you do not want any damage at all, you have to take care of your rafters as well. To do this, apply construction adhesives to the points on your roof where the rafters and trusses meet with the roof deck. This way, when the wind howls and snapped branches hit your roof, you can rest assured that it will be fine.
Take Care of Loose Roof Shingles
Shingles come in different forms. Thus, even if all the shingles on your roof were manufactured by one company, they will not act the same. Some will secure your roof tightly even in the hurricane season while others can be blown away just by a little wind that does not last two minutes. So, while anticipating a storm, it is advisable to check each shingle and make sure that they are all tight. Remove loose shingles and replace them with new, tight ones.
Apply Roofing Cement to Your Shingles
Using nails to secure your shingles can keep them tight. However, if you are worried about how they will fare during the hurricane season, applying roofing cement to them will give your shingles more integrity. Do this by neatly putting the roofing cement along the lines of your shingles. But first, be sure that the nails are holding them well enough. If you have to, knock in more new nails before smearing the roofing cement.
Hurricane Tie-Downs or Clips Give Extra Protection
If you want to be extra or are still scared that things you have done so far to your roof will not stop it from being torn from your building, use hurricane tie-downs. Also called hurricane clips, these metal pieces can prevent your roof from being lost in the storm. They are specially made to hold your roof beams and the top of your house walls, further strengthening your roof.
Taking these precautions will help you sleep better at night in the event of a storm. You can fix these things to your roof by yourself. However, if you are not sure that you will be able to do a good job, it is in your best interest to hire professional roof fixers to get your roof ready for the hurricane season. You will be better off spending some money and getting it done right than losing your roof and risking damage to the rest of your properties.
Done Rite Roofing Inc. is your best bet if you are looking for experienced roofing contractors. We guarantee you high-quality services and we do not subcontract our projects, so you will get the most out of our services.