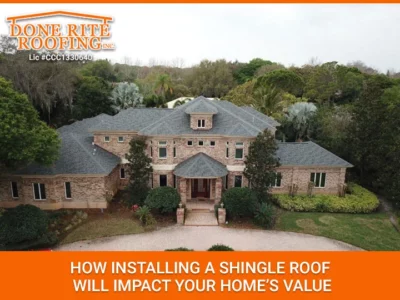 Your home's look has a significant impact on curb appeal. Additionally, having a shingle roof installed will also greatly improve your home's overall value. This is why you'll want to work with a professional who can do the shingle roof installation job right for you. Doing so has many benefits.
Choosing the Best Shingles for Your Home and Your Needs
Depending on where you live, you'll face a variety of issues with your roofing materials. Some shingles will hold up better than others. This is why you must investigate what products are best for the conditions your home is located in. Two types of shingles that generally withstand a variety of conditions are the Timberline HD Reflector Series shingle and the GAF Timberline ArmorShield II shingle. These shingles are both efficient and durable even throughout the harshest of weather conditions.
Reflector shingles act as cool roofing materials that direct the sun's heat elsewhere so the upper stories in your home don't collect excess heat. On the other hand, ArmorShield shingles will stick to your home's roof even through really strong winds and downpours. Both types of shingles will also boost your home's value.
Shingle Roof Installation for Maximum Protection and Durability
It won't matter what kind of shingles you choose to install if your contractor doesn't know how to do their job correctly. All it takes is a small mistake and you could be faced with some pretty big consequences. For instance, when your shingles aren't securely attached to your roof they'll shift during a storm. When this happens rain can penetrate your home. So, while it makes sense to look for bargains on shingle roof installation, the allure of a fast, cheap roofing job isn't something you'll appreciate later. This is also why you shouldn't fall for fly-by-night roofing repair services. Nevertheless, these groups will still prey on homeowners after severe storms rip through your area. They'll then either perform substandard work or never show up to finish the work.
Make sure you find an experienced contractor who can work to meet your needs for roof and shingle security as quickly as possible. This contractor should be able to help you secure your repair site until the job is completed. Once they've installed your new shingles, you'll be able to rest assured that their efforts and your investment will last for a long time into the future. If something does go wrong when you work with a licensed contractor, you'll know how to find them. They should then be able to fix the issue. Of course, you'll also have peace of mind while they're doing this work because they'll have the insurance they need to cover any accidents that might occur while they're on your property.
Maintaining Shingles Over Their Life-of-Use
A good set of shingles will last for 30 years or more. This is why it's important to have a comprehensive maintenance plan in place that includes yearly inspections. These inspections can detect small problems that could lead to early roof replacement. When they're fixed sooner rather than later they're affordable and prevent you from facing a big bill in the future. This is a great way to get the most out of your high-quality roofing materials.
Shingle Roof Installation
Now is a great time to preserve your home's security and give value a boost with professional shingle roof installation. Contact Done Rite Roofing Inc. to schedule your next shingle roof installation. When you take full advantage of their experience, professional resources, and access to the best products available you'll be able to get the most value out of your money.