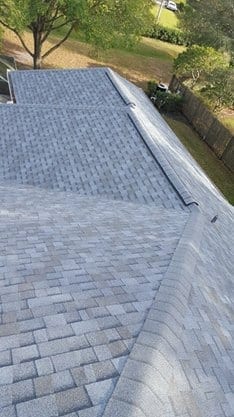 Researching the cost of a new roof can be a frustrating exercise. In this post, we're going to try to boil down the factors that impact your roofing quote. These are:
The square footage of your roof.
The materials used (asphalt, tile, or metal).
Labor costs.
The pitch of your roof.
The complexity of your roof.
Let's take them one at a time.
You probably know the square footage of your roof already—that's going to be the same as the square footage of your home.
Next, you need to choose your roofing material.
Asphalt roofing generally costs $2 to $5 per square foot.
Tile roofing generally costs $7 to $11 per square foot.
Metal roofing generally costs $3 to $15 per square foot.
Labor costs are the next thing to go into your roofing quote. Note that any reputable roofer will typically charge between $80 and $120 per hour. That may not be the figure you were hoping to hear, but if you find someone who charges less they either will not be in business next year because they're barely covering the price of their gas, or they're running some kind of roofing scam. Either way you should run away fast—a roofer who has gone out of business is awfully hard to hold accountable if you wind up having trouble with your roof later.
The roofing pitch trips a lot of people up. You can certainly be forgiven if you haven't got the slightest idea what the pitch of your roof is. Here's a great video that will show you exactly how to figure it out without getting on top of your roof. This video comes from colleagues in another state. You'll also notice you won't need very complex equipment to get the job done.
As for complexity, you just have to be honest with yourself here. There's no pre-set "complexity" figure, but you know whether you have a basic roof, or a roof that's full of peaks, gables, and funny corners. If your roof is very complex it's obviously going to take us a lot longer to install the thing, which is going to have an impact on your labor costs.
Once you've gathered all this information you can actually plug it into a roofing calculator to get a ballpark figure.
However, until you call a trustworthy, reliable roofing company this figure will always be a ballpark number. It's just a guess, and it doesn't take other issues into account. For example, you may need new underlayment, new roof supports, or new flashing. You just won't know until someone gets up there.
Getting a quote isn't scary—you're not bound by any quote you receive. Here at Done Rite, we certainly don't believe in using them to perform hard sells on you. We're just going to provide you with the one thing you've been trying to find…accurate information that you can use to plan your budget.