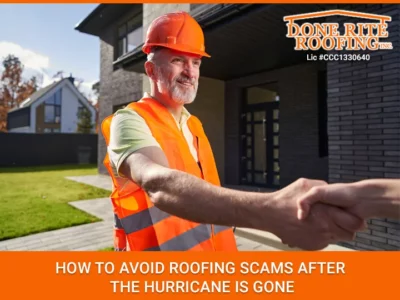 Unfortunately, when Hurricane Irma hit last September she wasn't very kind to many of the area's roofs. In fact, if you talk to any roofing company, you'll find that they're still extremely busy because of it today. This isn't only because it's tough to find high-quality roofing crews, but it's also difficult to find supplies. Top that off with the fact that many people have encountered at least one roofing scam and you'll understand the area's dilemma.
One survey of the area suggests that the number of re-roofing jobs has nearly doubled from Sept. 1, 2017 – March 1, 2018, in comparison to this same 6-month period a year earlier. Most of these jobs were located in the Florida Keys, but other areas in southwest Florida are also suffering the same dilemma. This has had a real impact on the industry, especially when coupled with Florida's already vigorous construction market. All this has kept roofers busy and supply prices robust. It's also opened an opportunity for "shady" roofers to run a roofing scam on unsuspecting property owners who have insurance checks and want repairs completed immediately.
How to Avoid Falling Victim to a Roofing Scam
When you need to avoid a roofing scam and find a reputable roofing company instead, you'll need to put together a checklist. It should include:
Credentials verifiable via references: Well-established roofers will have lots of customers who will attest to their work and professionalism.
Check for licensing and the right permits: This includes having a license to do work in Florida, worker's comp insurance, and a building permit that's posted on the property before any work begins.
Don't pay any money upfront but do verify that the supplies being used are properly paid for by the roofing company: Homeowners are commonly scammed by companies requiring a down payment before they start the work. They'll say this is to buy the materials but then they never return once you've paid them. Of course, you want to make sure that the materials are paid for too because when a roofer buys supplies on credit they can skip town without completing the job and leave you to pay for the materials. This is why you should ask them where they bought the supplies, review the receipt, call and talk to the company, and make sure everything is paid for upfront.
Remain in close contact with your insurance company throughout the entire project: Don't leave this up to your roofers to handle for you. You'll have to pay a deductible anyway, so save yourself a hassle and talk to the insurance company to make sure your check is on the way before the work begins.
One roofing company you can count on to pass this checklist is Done Rite Roofing. They've been doing business in the area for many years now. During this time they've witnessed various roofing scams, but their highly satisfied clients will tell you this company has never pulled one themselves. This is good news for anyone in need of a roofing company, so give them a call today.
Picture Credit: iStock