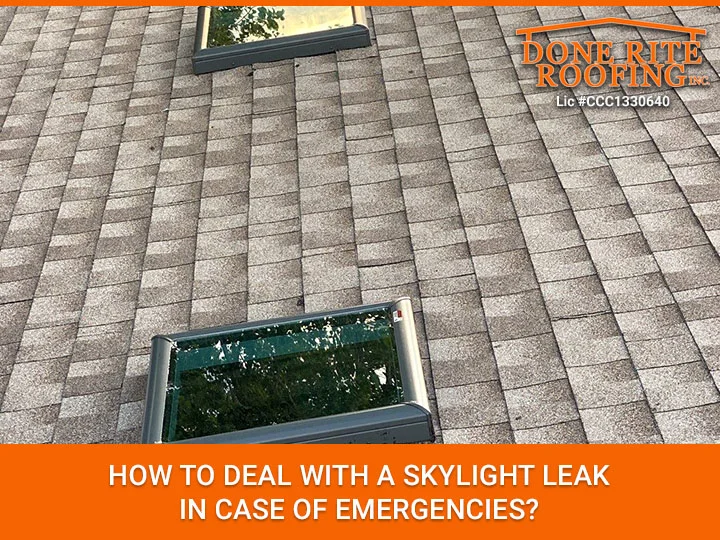 Skylight is a common residential roofing repair as it commonly damages the ceilings, drywalls and indicates a hidden issue that could lead to possible damages. In case you see signs of a leaking skylight, refrain from waiting and observing approach. You should immediately call your roofing professional and get everything fixed at the earliest. You never know if the next downpour could result in water damage worth thousands of dollars.
Skylight repair is difficult and if they are leaking, it's almost impossible to fix. Thus immediately reach your professional roofer the moment you notice any damages. However, till an expert comes and inspects the leakage, you may take some urgent measures to prevent excess damage.
Diagnose The Skyline Leak
Finding the source of the leakage is the first step that requires comprehensive inspection. In all cases, it's necessary to call a professional as the leak is most difficult to locate. You need to check if the leakage is due to excessive condensation that has moved beneath the glass and dripped inside the glass. It mostly happens in cold environments and at damper locations such as bathrooms or kitchens.
In case the skylight opens, make sure you fully close it and check if the weather seals are in the right condition. After calling a roofer, they inspect deeply to search for potential causes of the leakage. It includes roof vent flashing or roof penetrations. Skylight such as the windows is made of a pane of glass that's surrounded by a frame made of metal. In such cases, leaks usually occur in between the glass and the frame. It is often a result of a weathered or worn-out seal in the skylight itself.
It is a real concern if it's between the roof and the frame. The problem arises because the skylight was not installed correctly or the seal and flashing around it have worn out. In situations where the leak is between the glass and the frame of the skylight, you can fix the issue by caulking around the glass and the frame of the skylight. You need to ensure that after the water has infiltrated the seal, the skylight might look permanently foggy due to high moisture in between the panes. The only solution here is installing a new skylight.
Consult a Professional For Help
Never ignore a leaking skylight and only trust an expert to repair or replace the same. Expert teams and agencies have the capacity and experience to determine the primary issues that are causing the problems. They also advise you to prevent such cases from occurring in the future.
If you are looking for an experienced skylight repair company or facing any other roof-related issues, contact Done Rite Roofing Trinity immediately. They have a team of experienced professionals who can help you to prevent or to repair roof leaks or damages. They service customers in Pinellas County and Trinity, FL areas.