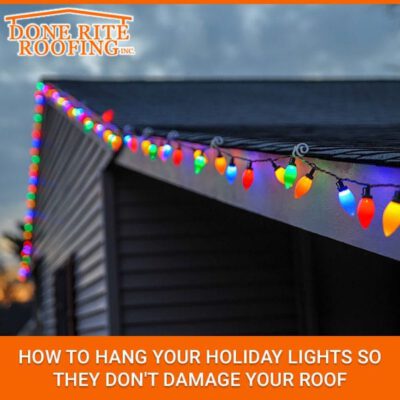 Christmas is almost here! Now is a great time to surround yourself with some festive decorations as you enjoy your friends and family. Unfortunately, this may take a lot of preparation, especially when you're decorating your home. Sometimes this can bring out your competitive spirit leaving you with a lingering desire to have the best decorations in your neighborhood. While this can be fun, there are some tips you should heed so these decorations don't bring with them a costly bill for damages to your roof.
Think Safety First
The first thing you should think about when you're hanging your Christmas lights is your safety. While Christmas is beautiful, it's also wet and windy. When you're using a ladder in these conditions, make sure its legs are flat on the ground and that you secure it with a rope or bungee cord before climbing on it.
Make all the Necessary Preparations
Before leaving the ground, make sure you know where every string of your Christmas lights will go. Make sure you also test the lights before hanging them so you don't have to redo everything when you discover they don't work.
Take Steps to Protect Your Roof
To keep your Christmas lights from wreaking havoc on your roof this holiday season, you should:
Try not to walk on your roof a lot so you don't injure yourself or damage your home. Tiles and troughs can easily break under your feet.
While you may think that nails and a hammer are the best tools for hanging your Christmas lights, your home may not be able to endure these things. All it takes is a few nail holes for moisture and dampness to seep into your home. The best way to avoid this is to use all-purpose plastic light clips. These work great on any surface so you can attach them anywhere. Plus, they're inexpensive and reusable so you'll have room left in your budget for some additional gift giving this year. Just make sure that the roof clips you purchase to use say that they're fine to use on gutters. If not, you will want to find another way to attach lights to this area of your home. At the end of the season, you'll also enjoy the fact that it's easy to remove these plastic clips from your home.
Avoid Your Chimney
Since your chimney is located pretty far away from your gutters you must walk a fair distance to reach it. This is why you shouldn't decorate this area of your home. However, if you have your heart set on decorating your chimney, make sure you're careful as you do so. Additionally, you should keep plastic blow up decorations far away from your chimney so they don't melt.
Conclusion
Christmastime is supposed to be fun so don't go overboard. You don't want to overload your home with Christmas lights and decorations. In the event that you adhere to all these tips and your roof still sustains some damage, make sure to give Done Rite Roofing a call immediately.
Picture Credit: Bob Ricca