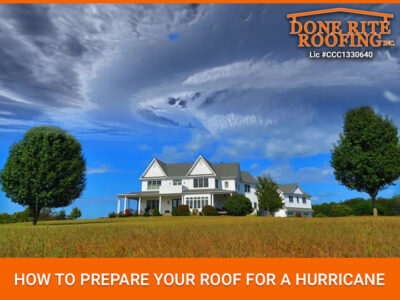 Unfortunately, today hurricanes have become a way of life in many areas of Florida. This is why so many residents have a tendency to brush off any news reports about bad weather. Doing so will leave you in a panic when you finally realize that the weather's impact is worse than you'd expected. This is yet another reason why you really should start to prepare your home before hurricane season even begins. Fortunately, there are some helpful steps that will ensure you do this the right way so your roof is prepared for anything that might be slammed against it.
Secure all Your Doors and Windows
When there's debris flying around in the air there's the possibility that it could break your window. This will cause a sudden increase in the pressure that's inside your home. Your roof will respond to this increase in pressure as if it's a giant parachute. For this reason, you really need to make sure that your windows and doors are all tightly secured. They should all be locked shut and into place when a hurricane hits. What's even better is having the ability to cover your windows with something like plywood so that you can make sure that they don't break and cause this parachute effect to happen anyway.
Take an Inventory of Your Home
After the hurricane is over, it's possible that your home may still have suffered some damage. It's important for you to take some time to walk around your home and check for any damage. In this way, you'll be prepared for the insurance company to send an adjuster out to your home. You should take photos and videos of any damages that occurred so you can give them to your adjuster. They'll want to compare these to what your home originally looked like so make sure you always have a current photo of your home available as well.
Make Sure to Secure any Loose Items in Your Yard
When you're told that a hurricane is about to hit land, you'll want to move anything on the outside of your home indoors so that it won't take flight during the height of the inclement weather. For instance, patio furniture is something you'll want to store in either your garage or your shed. Since your home is one of your most expensive and most highly valued possessions, you'll want to make sure it's protected. However, this is just as true for your vehicle as well. Stow it in your garage and if you don't have a garage, at least make sure it isn't near any large trees that could fall on it and cause severe damage.
Remove any Branches Near Your Home
You never want branches to be within 6 feet of your home or its roof. This is important because when the wind is high these branches (especially those that creep up alongside of the edge of your roof) will act as a large whip, causing severe damage. Since the edge is what prevents air from getting up in there and lifting the roof of your home, it's vital for this part of your home to remain undamaged.
Check to Make Sure you Have an Up-to-Date Insurance Policy in Place
Always make sure that you don't have any coverage gaps in your insurance. You'll want to be able to contact your insurance agent right away if a tree or limb hit your home. Once you've done that, make sure you also give us a call at Done Rite Roofing. As a dependable, licensed roof contractor we can help you get the tree off your home as quickly as possible after the hurricane.
Image Credit: Unsplash