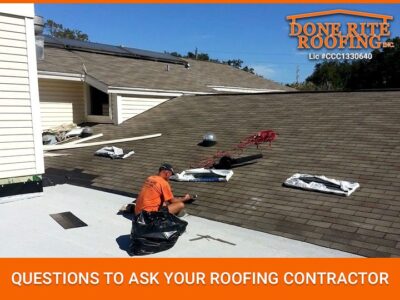 It's not enough to simply hire a roofing company for your home. This decision is as important as choosing the correct materials to use on your roof. When you take the time to make the right decisions involving your roof, the value of your home will be increased. However, if you make the wrong decisions, your resources will be drained because you'll spend a lot of money repairing your roof. You may even have to pay for damages that have been caused to your property. Fortunately, there are some questions that you can ask a roofing contractor prior to hiring them to make sure you've chosen the best one to meet your needs.
Does the Roofing Contractor Have a Business Address and a Website?
Make sure you're working with a roofing contractor who's both reputable and established. The best way of knowing this is to ensure that they have a physical address at which you can find them if you do have any issues with the quality of their work. This should be listed on their website along with their company's history and a phone number that's local to you.
Is the Roofing Company Licensed and Insured?
Although this sounds fairly obvious to most people, especially those living in states that require business licensing, you want to make sure that you don't overlook this. There are some roofing contractors who let their licenses expire or their insurance lapse. At the bare minimum, make sure that they're carrying workers' liability insurance.
How Long Have They Been in Business?
It's important that whomever you choose to work with has experience dealing with a variety of issues over the years. You can feel fairly "safe" hiring a roofing company with at least 10 years of experience. This also ensures that they'll have a detailed list of completed jobs with references to share with you. Make sure you don't merely look at these things but that you also talk to these people so you'll know what to expect when having your roofing work done. You should also take this a step further and check out the roofing company on social media and call your local Better Business Bureau to see if they have any complaints against this company before you hire them.
Is the Roofing Contractor Doing the Work Themselves or Using Subcontractors?
Although there's nothing "wrong" with subcontracting parts of the job, you want to make sure that everyone who's working on your roof is both licensed and insured. You also want to make sure they're highly experienced and have the right equipment to take care of the work correctly.
Choosing the Best Roofing Company for the Job
Your roof has a very important job: it's there to protect your property. With this in mind, you don't want to simply entrust its care to just anyone. You want to make sure you hire nothing short of the best, which if you live in Clearwater or Pinellas County, Florida is Done Rite Roofing Inc. Make sure you give them a call today before your roof is beyond repair or the repairs are so costly you can't afford them.