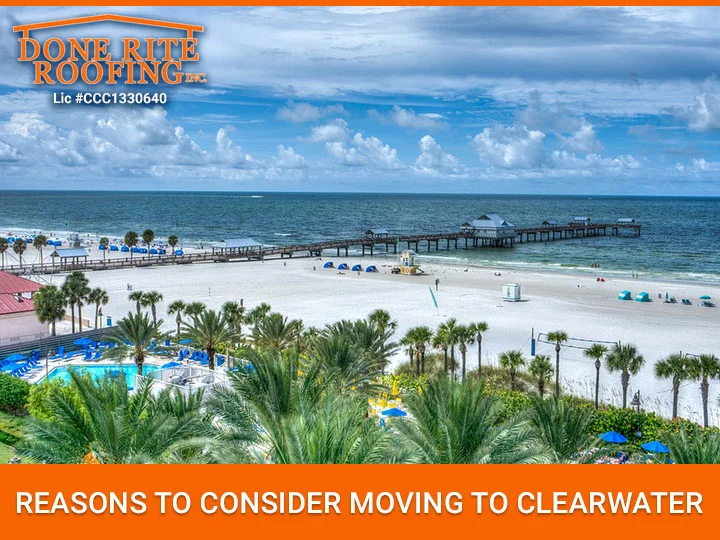 There's a lot more to enjoy in Florida than a warm climate and beautiful beaches. Residents in Clearwater, FL do enjoy 362 days of sun each year but there are many other things that also entice them to call this area their home. Before you decide to move there, it's a good idea to know what these reasons are.
The Lovely Warm & Sunny Climate
This is the obvious reason, but I still have to mention it for anyone with doubts. When you compare the sunny yearlong weather to the rest of the nation, Florida is tough to beat. Florida typically has 200+ sun-filled days every year. Despite the hot and humid summers, Florida seasons are primarily mild and warm. Most Florida residents get by with flip-flops, shorts, and a hoodie during winter. The perfect climate for anyone tired of shoveling snow. For example, the average winter in Tampa ranges from 76 to 80 degrees. During the summer months, the temperature tops off at 95 degrees.
Plenty of Stuff to See
When you're tired of checking out the area's pristine beaches, you'll have plenty of other attractions to enjoy regardless of your age. Some of the most popular attractions in this area include:
The Capitol Theatre

Cliff Stephens Park

Coachman Park

The Francis Wilson Playhouse

Moccasin Lake Nature Park
Check out the Dolphins
Dolphins aren't only frolicking in the water; they're also featured at the Clearwater Dolphin Trail. This is a unique display of art that features over 100, 6-foot tall dolphins made out of fiberglass. Each of these dolphins was created by a different artist who resides in this area and is sponsored by a local business. Spend some time on a dolphin hunt to see how many of them you're able to find.
Beautiful, Beaches That Have won Awards
The area's beaches are known to have white sand and be located next to the gulf's clear water. Here you'll find lots of outdoor fun. These are just some of the many reasons why these beaches have received so many awards throughout the years including being called Florida's best beach by USA y in 2013. You can relax while enjoying them since they do employ lifeguards on a full-time basis.
Lots of Festivals
Two hours prior to the sun going down each day you'll want to stop by Pier 60. Here you'll find lots of artists and musicians from this area gathering together to display their talents – a festival that's been occurring daily for 20 years now. This will give you something to enjoy while you do your shopping. Here you'll also find plenty of other activities that your family will enjoy including a playground for the kids, films at the Sunset Cinema, and fishing.
Plenty of Food to Enjoy
Regardless of how you've spent your day, you're bound to be hungry at the end of it. Fortunately, you'll find a lot of great restaurants in Clearwater to enjoy. Each of these restaurants offers a different type of cuisine too so you'll never grow bored or run out of places to eat while living in this area. You'll find everything from fresh fish to chicken and waffles. A few of the favorites that you won't want to miss out on include:
Crispy Cajun

Nauti-Nancy's

Lenny's Restaurant

Island Way Grill

Rumba Island Bar and Grill

Besa Grill
Although living in Clearwater, FL has many great advantages, as a homeowner, it also comes with some responsibility. An example of this is taking care of your roof. Fortunately, you can outsource this job to Done Rite Roofing, Inc. and trust them to get the job done correctly. Give them a call the next time your roof requires some work.
Picture Credit: Mariamichelle