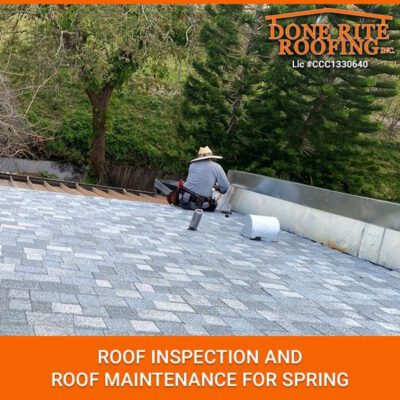 After winter has passed by it is time to enjoy some healthy sunshine. However, you also need to check whether there are some underlying damages caused to the roof of your residence during winter. The roof of any house is the most exposed and most significant part of your house and therefore roof inspection must be one of the top priorities on your list. You may encounter several kinds of issues that you will be required to deal with during roof maintenance. Follow this guide closely to get the roof ready for the remaining season.
1. Inspect and clean gutters
At the time of winter, there is always the tendency for debris to get accumulated in gutters and downspouts. Spring is the right time to deal with this problem as a part of roof maintenance activities. Apart from that, cold temperatures, ice, and snow may have damaged gutters therefore it is significant that you carry out all required repairs and maintain gutters in good shape. The first thing while cleaning gutters is to remove all twigs, leaves, branches, and dirt that are accumulated in gutters. This will ensure that you have got rid of all clogs and ensure that rainwater can flow freely off the roof. Also, verify if any portion of the gutter system is detached from the house or if there are other cracks. In case you notice some damage it is a good idea to get in touch with pros for repair.
2. Search for damaged or missing shingles
You may search for damaged and missing shingles from the ground itself thereby avoiding the risk of climbing on the rooftop. Otherwise, you can think about climbing a ladder for good viewing. However, always ensure that you are doing these things safely and various surfaces you are landing on are not wet. Get someone to hold the ladder for you while doing this. Normally, missing shingles are easy to spot and many times you can also find shingles that are blown off on the ground around the residence. Damaged shingles may contain buckling, curling, cracks, discolorations, surface grain loss, and other similar problems. All these are signs that indicate that the roof requires professional attention and depending on how much damage is done you are going to need either roof maintenance or roof replacement.
3. Check out flashing
Flashing is usually located around the skylights, chimneys, vents, valleys, and other roof penetrations or similar areas where two portions of the roof meet. Flashing is installed by using metal strips that prevent water from seeping into the roof structure or within the house. So, ensure that all flashing is well-fastened to the roof and you are not going to find gaps or cracks. In case you find any suspicious areas or other issues, get in touch with roofers and they can decide the extent of damages.
4. Roof inspection for algae and mold
At the time of winter, the roof is normally exposed to a lot of moisture. It may come from rain, melting ice, or snow. It is a perfect breeding place for mold and algae. Therefore, while you are checking shingles ensure that you are looking out for moss, mold, and algae growth over the roof. These things will normally present themselves using various colors such as white and green spots, green and blue spots, or black streaks. Homeowners will be required to clean many of these instances on their own. However, it is a good idea to consult a pro roofer before carrying out this roof maintenance activity.
After you have finished doing everything you can for your roof inspection and completed the roof maintenance activities you can perform on your own, leave all the rest of things in hands of experienced pros such as Done Rite Roofing in Palm Harbor, Clearwater, and Pinellas County, FL area.