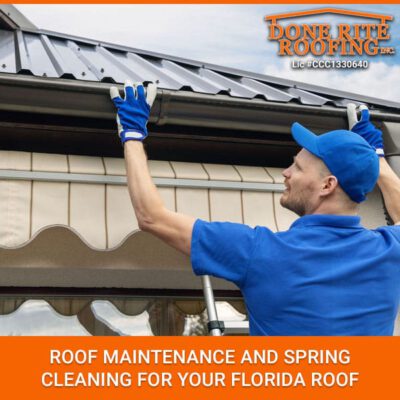 Spring season is fully on to people living in Florida and several of them are working on tackling the annual spring cleaning activities. The turn of the season is a terrific time to make sure that your home is neat and tidy. It is also a great time to ensure that roof maintenance is performed and the roofing is in its best condition. Even though Florida has relatively mild winters, prevailing conditions may yet affect the roofing. With more humid and warm days coming up this is a perfect time to get your roofing contractor to come and visit the establishment and perform roof maintenance. Here is a checklist for Florida roof maintenance.
1. Cleaning out gutters
If you take a closer look at your gutters and find out that they have seen better days, it means there is an issue with the roofing. Even though in the milder winters gutters can be left in a clogged state with twigs, rotting leaves, and other kinds of debris. There are major issues caused by clogged gutters such as damage to the foundation. Therefore, it is a good idea to clean them ahead, instead of ignoring the condition of roofing and gutters and then having to face larger problems in the future that can lead to roof replacement. While cleaning gutters you can begin by clearing away all the debris from its surface. Next is making sure that the downspout is clear there is clear water drainage from the home. During cleaning you need to check out the signs of separation, sagging, or yanking away from the roof. Get in touch with your roofing contractor immediately if you find any significant damage.
2. Trim branches of nearby trees
Some people may think that tree branches will not harm the roofing, however, they are one of the largest threats. When you face storms and high winds there is every possibility that these tree branches and other similar foliage will fall on the roof possibly making a puncture in the roof system or causing other serious issues. The easiest way of avoiding the damage from trees in the yard is by trimming back the branches that are hanging over the roofing of your house.
3. Check your attic
If you have an attic within your home, you can reveal potential problems with the roof quickly by just doing an attic inspection. You will notice wood rot, water damage, or mold that is a dead giveaway for damages such as roof leakage. In case you find any warning indicators get in touch with the roofing contractors to get things fixed fast.
4. Schedule a professional roofing inspection
One of the better ways of making sure that the roofing is ready for the upcoming weather is by scheduling an inspection with a pro roofing contractor. By performing a roofing inspection you will be raising the chances of catching problems when they are relatively small before things get out of hand.
The roof maintenance contractor when called will be on the lookout for unusual wear and tear, leakage, organic growth problems, and damage created by windblown debris. They will also be looking out for issues that may have occurred at the time of roof installation and subsequent repair. If you live in Palm Harbor and Pinellas County, FL area, you can get in touch with Done Rite Roofing for expert roof maintenance advice.
Picture Credit: 123rf.com