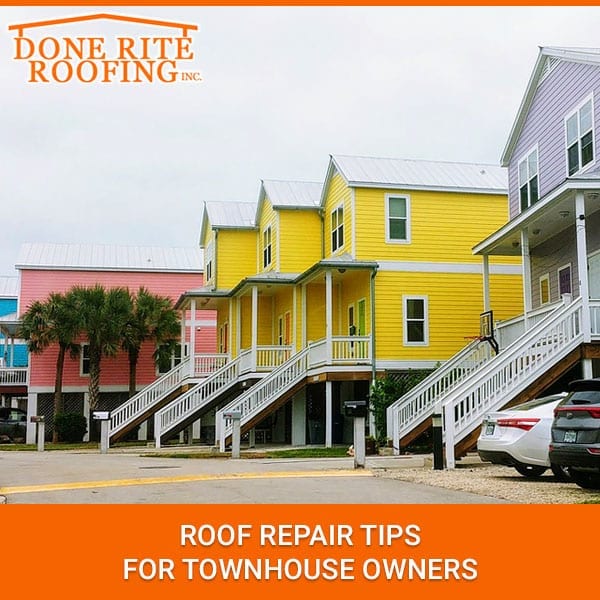 Townhomes are like any other home in that they're all susceptible to having their roofs grow old and need repairs or become damaged by the weather and need to be fixed because of it. When you, as a townhome owner, discover such damage, your first step is to determine who's responsible for your townhome's roof repair and maintenance. This is because, in your situation, there are several parties (e.g. neighbors, homeowners association, a.k.a. HOA) who are involved here.
Owning vs. Renting
When you're a tenant who's renting a townhome, roof repair and maintenance is your landlord's responsibility. Since you don't want to violate your lease terms, make sure you immediately tell your landlord when you discover any issues regarding your roof. This will also help your landlord take care of the issue immediately so that it doesn't turn into an even bigger issue.
Determining if Your HOA is Involved
More than likely if your townhome is located within a community you pay HOA fees. These fees are used to pay for various things throughout the community which should be clearly outlined in your HOA agreement. Typically, these items include capital repairs (e.g. roof repair, maintenance, and improvements). If this is true of your agreement, make sure you tell the HOA administration about your roof's issues immediately so they can send out a reputable roofing contractor to look at your roof to decide what's necessary to fix it and how much this will cost.
Sometimes even though you belong to an HOA they'll still ask for you to pay for the work up front until they have enough money to repay you. They may also determine that they want to fix all the roofs throughout the community at this time, especially if you aren't the only one who has roof issues.
When Your HOA is NOT Involved
When your HOA agreement doesn't cover your roof issues, you alone will be responsible for fixing your roof. Prior to initiating any work here, make sure you review your home insurance policy, especially if you feel as though you must make roof repairs due to a natural calamity (e.g. a hurricane). However, if your roof has been damaged by normal wear and tear, then you may need to consider replacing your whole roof. If you choose to ignore these problems for too long, water damage may start to occur and when it does it may not only affect your home, but also your neighbor's home as well.
Conclusion
Before you even start having roofing issues, it's a good idea to determine who's responsible for taking care of your roof. The best way to do this is to take time to become familiar with your HOA agreement. If you don't have an HOA agreement, make sure you take the step to contact a reputable roofing contractor like Done Rite Roofing. They're a well-known contractor throughout the Tampa, Florida area. You can trust all your roof repair to them, regardless of what type of roof you own.
Picture Credit: Pixabay