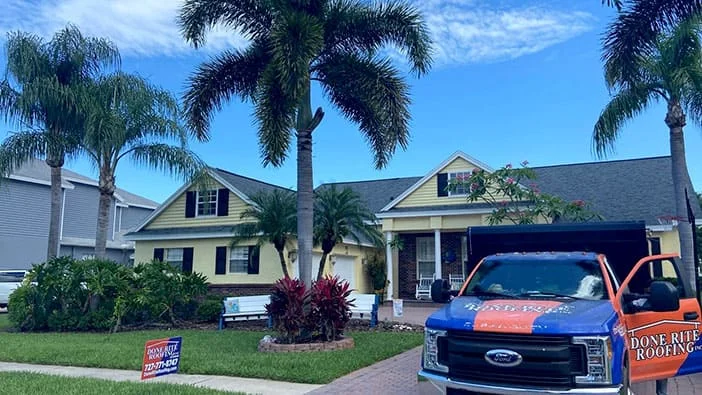 Palm Harbor, FL, is located just north of St. Petersburg, FL. The area is best known for championship golfing that takes place at the Innisbrook Resort and Golf Club. There are also warm mineral springs, beautiful parks, and great beaches nearby. Once you're done enjoying the sun, you'll get to retreat to your home. If you're like most people in this area, you probably own your home and thus have a good understanding of the responsibilities that go with it, one of which is hiring a roofing contractor to make roof repair or sometimes even hiring a roofing company for a whole new roof installation.
Get It Done Rite The First Time
When the time comes for this work to be done, you should look to no other roofing contractors than those who work for Done Rite Roofing. Our family-owned roofing company has been in business for more than 25 years. Throughout that time, we've carefully positioned ourselves as the leading provider of this work in Palm Harbor, FL. This is because we're trustworthy and treat your roof as though it were on our own home.
Anyone who's allowed us to do any roof repair or roof installation work on their home knows that we're the best in the area. We pay close attention to every detail of your job from beginning to end. This has helped solidify a great reputation for us in this area. Throughout the years, we've worked our way into the area's top 1% of roofing contractors. All of this takes hard work and dedication on our part, but we don't mind because we feel that our customers deserve nothing less than the best.
At Done Rite Roofing in Palm Harbor, FL, we understand that you don't want to stay home watching over a roofing contractor or a roofing company as they do roof repair or roof installation work on your home. That's why our licensed, bonded, and insured make it easy for you to sit back and relax while we do all the work. We also guarantee any work we do on your roof. So, when you need roofing work done, give us a call. We can't wait to help you!
211 Hedden Ct,
Palm Harbor,
FL 34683
Contact Us In Palm Harbor, FL
"*" indicates required fields