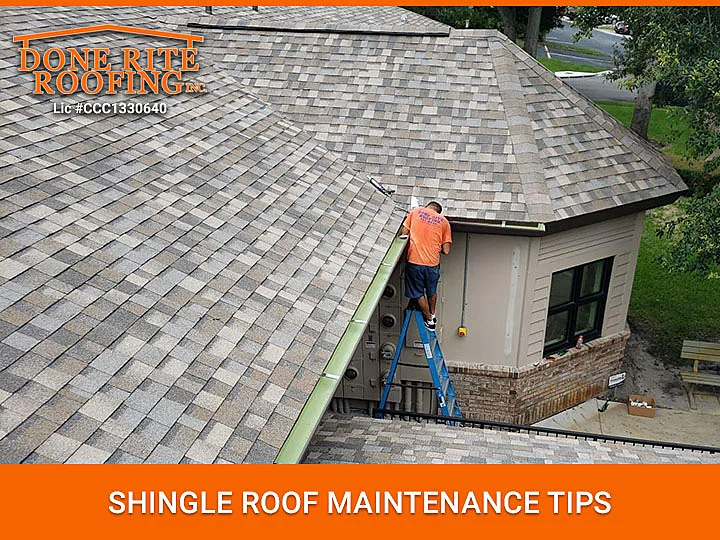 Maintaining your asphalt shingle roof is one of the most important things when it comes to owning a home. Not only is it expensive to replace and repair a shingle roof, but if it suffers from any damage then the insides of your house are at risk of damage as well.
Roofing companies are responsible for conducting shingle roof maintenance regularly and ensuring that there are no issues with your roof. Having a roofer check your single roof will help to make sure that it gets the protection that it requires.
This helpful list of tips will help any roofer out there know what to look for and allow them to thoroughly and properly check the roof when performing maintenance. As a homeowner, you can use this list as a guide that can help you know what you expect out of a professional that is performing regular single roof maintenance on your home.
What Damages Roofs?
Shingle roofs take quite a bit of abuse throughout their lifetimes due to being outside and exposed to the elements every single day. Rain, heat, and wind are all things that affect roofs in the Tampa Bay Area, but that isn't all!
Roofs can also suffer from plant growth on their surfaces, such as algae and moss, or even trees. Poor installation will also cause issues down the line.
Why Should you Maintain your Roof?
Taking care of your roof is something that will save you headaches and stress down the line. Even if you do not see any signs of damage on the outside it is prudent to hire a professional roofing company that can assess and cares for your roof.
Ensuring that your roof sees proper maintenance will keep your entire home in good condition and save you time, money, and stress down the line.
The Steps to Roof Maintenance
Having an experienced roofing company perform these steps twice a year and after any major storms will ensure that your roof stays healthy and intact for a good time to come.
Housekeeping
This includes cleaning up the roof and clearing any debris that may have gathered on top of it. Cleaning off the shingles and cutting away vegetation that may hang close to the roof will help to keep it clean and tidy.
Inspecting the Roof
After cleaning up the roof, the roofer will want to perform a thorough inspection of the area and try to find any signs that could lead to issues down the line. He will want to check for small things he can fix on the spot as well so that he can prevent them from becoming a larger issue down the road.
Repairs
A good roofing company will supply a roofer who knows what he is doing, and that includes knowing how to perform repairs and maintenance. Fixing a problem while it is small will save the homeowner time and money later on, and any roofer worth his salt will know how to perform minor repairs on a shingle roof.
Record-keeping
Keeping a formal record of the repairs and inspections that have been conducted on your roof is something that a roofer should do. It will help the client to keep track of what has been done to their roof and is something that will set a roofer above the competition.
Conclusion
Following these simple tips can help your roofer to perform good roof maintenance and ensure that your shingle roof gets the attention that it deserves. If you are looking for a dependable and capable roofing company in the Tampa area, then consider checking out Done Rite Roofing Inc.
As one of the best roofing contractors in the area, you won't be disappointed with their work. Done Rite Roofing Inc. will provide every client with quality service and affordable pricing. The techniques implemented and service provided are second to none, and anyone looking to have shingle roof maintenance performed on their homes would be wise to check them out.