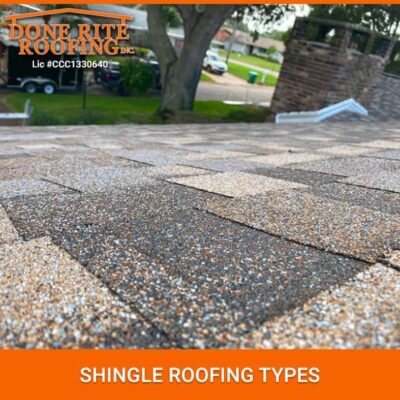 Shingle roofs are responsible for maintaining the integrity of the roofing structure. It also helps in keeping out the water and adds a great deal of curb appeal and value to your house. The kind of shingles you select for the roof will also affect the durability of your roofing against rain, wind, hail, and other such weather events. Let's learn a bit more about different kinds and styles of shingle roofs.
Asphalt shingle roof: The asphalt roof shingles are affordable, reliable, and they are among one of the more popular roofing materials in the world. According to a recently published report most of the roofing material used for residential construction, roof replacement, and roof repair projects are asphalt shingles. You can find several varieties in the asphalt shingles and some of them are designed for accommodating unique roof designs or regional weather.
3-tab shingle roof: These kinds of roofing are used in several homes across the U.S. and Canada. There are three distinct kinds of tabs of the same size giving a symmetrical appearance across the roofing.
Architectural shingle roof: These are considered premium kinds of asphalt shingles and they are also known as laminated shingles or dimensional shingles as there are two layers of shingle pieces that are laminated together for providing a dimensional appearance.
Impact-resistant shingle roof: These kinds of shingles are enhanced and modified for withstanding the impact of a hailstorm and other debris that may fall on top of the roof. These shingles can be modified for achieving resistance.
COOL roofing shingles: These kinds of shingles are covered with granules that are solar-reflecting and help in making your house more energy-efficient by reducing the heat absorption via the roof.
Specialty asphalt shingles roof: There are some specialty singles available that are available in bold colors and styles that are similar to other kinds of roofing material such as wood shake and tile. These shingles offer the affordability and practicality of asphalt shingles with a different look.
Metal shingle roof: Another kind of roofing material is metal roofing material. There are further sub-types of metal roofing such as a standing seam or stone-coated kind of shingles. They usually take a long while to install and they belong to the higher end in terms of cost because of labor, the material used, and system requirements.
Standing seam: This kind of metal roofing has a series of vertical seams or ridges running up along the slope of the roof.
Stone-coated: These types of metal roofing shingles are different from the standing seam kind of shingles in terms of appearance. These are steel panels with a stone-colored coating to simulate clay or concrete tile roofing and wood shakes.
Considerations while selecting shingle roof
The choice of roofing shingles and the roofing system you are going to use is dictated by the local business code requirements, system warranties, and manufacturer warranties. For instance, just some kinds of roof underlayment are used with non-asphalt shingles such as slate, metal, or tile due to the higher temperature or fire concerns. Some of the roofing material will need specific roof deck preparation or the use of reinforced structural elements. For those looking to add solar panels to their roofs, it is a good idea to install the solar panels on top of the full coverage of shingles. It gives double-layer protection against these elements.
After you have decided upon the perfect shingle for your home it is time to locate the most suitable and reliable roofing contractor to complete the work. For the people living in the Clearwater & Palm Harbor, FL area a good alternative is Done Rite Roofing, Inc. Call them now for a quote.