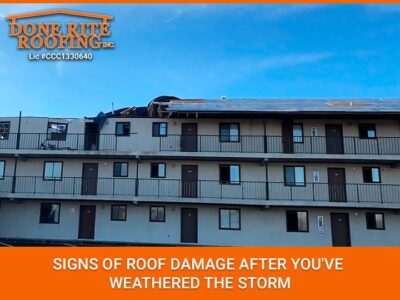 Although your roof has been built to withstand the elements, there are still some storms that are worse than others. This is why it's important to know what signs of roof damage you should watch for.
Wind Damage
A lot of roof damage can occur due to strong winds ripping off your shingles. When this happens, you may experience a leak that causes interior damage to your home. Sometimes wind damage isn't as visible though – like when the water-shedding surface is broken. Look for shingles that are worn off 1 – 2 inches beneath the shingle above it here. If you find this type of damage, rest assured that your shingles' manufacturer has a wind warranty. Sometimes the damage is above this coverage though, which is when your home insurance will be applied.
Hail Damage
Hail is hard to miss, but its damage can be hard to see. It can cause a bruise (a.k.a. indentation) in your roof that water infiltrates over time. This is something you'll want to call a professional about then file an insurance claim. Make sure you don't select a contractor simply because they've knocked on your door at the end of a major storm. You'll want a professional who can look for:
Indentations in your shingle where granules are missing
Small round-shaped divots that form a distinct pattern on your shingles' edges
A large pile of granules at the end of your downspout
Falling Debris
Some storms will cause falling debris (e.g. branches) to fall on your roof. While some of these items are too small to cause any roof damage, others are so big that you'll naturally be concerned about the damage they've caused. Determining which of these has happened to you is something you must rely on your judgment to help you with – even if your judgment tells you that you need to hire a professional to look over things for you. One of the main things that should be looked for here is whether there's any debris still on your roof. Of course, things like missing or cracked shingles and large piles of granules are also bad omens.
Dealing with Damage
Safety should always be your primary concern when looking for signs of roof damage. Whether this means inspecting your roof from a window inside your home or using binoculars to inspect it from the ground, you don't want to be crawling around on the top of your roof. That's a job you should leave to the experts at Done Rite Roofing Inc. instead.