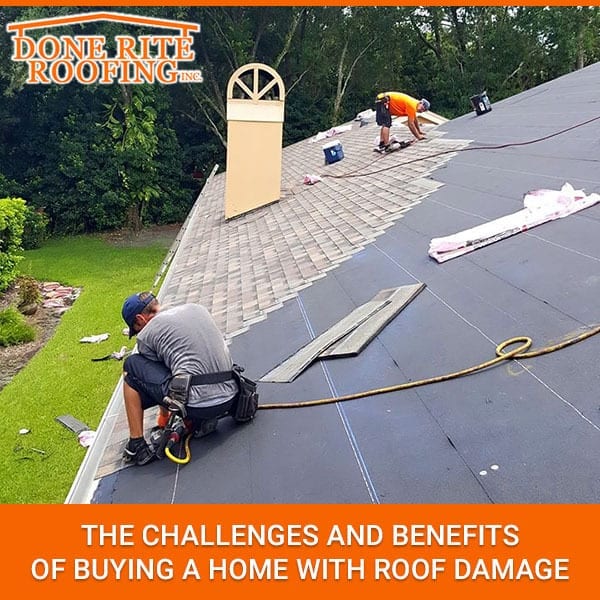 Many people who want to buy a home will be completely turned off when they hear that the home has some type of roof damage. This is because they're not looking for a fixer upper. Instead, they want a home that's in great condition and doesn't need any type of costly roof repair. What they don't realize is that a faulty roof shouldn't always scare you away from a home. There are some factors that you should take into consideration here before making this decision.
How bad is the roof damage?
One thing that should sway your decision here is how much roof damage there is. For instance, if some or all the roof's shingles blew off during a hurricane, then correcting structural damage and replacing the shingles will be enough. However, there could be more extensive damage than what your eyes can see. It's important to understand this because it could cause other issues with your ceiling, drywall, or insulation which could then cost you even more money.
Will you be getting an FHA loan?
When planning to finance your home's purchase with a loan from the Federal Housing Administration, the property you're buying must be in livable and insurable condition since you must get property insurance before you can close on the home. One requirement for getting property insurance is to pass what's known as a "four-point inspection" – an inspection that looks at electrical, plumbing, HVAC, and your roof. This means that if your roof doesn't have at least a three-year life expectancy, you won't be able to get it insured. As such, buying a home that needs roof repair with an FHA loan is probably more trouble than it's worth.
What about old roofs?
If there's no roof damage, but the roof is really old (e.g. 20 years old) you may want to consider its life expectancy. To do so you must consider what material it's made from and what the weather is like around your home. With these factors in mind, consider the material it's made from:
Asphalt shingle roofs last 20 years
Fiber cement shingle roofs last 25 years
Wood shake roofs only last 30 years
Slate, tile, or copper roofs last 50 years or more
Don't shy away from a roof but make sure you look at the quality of workmanship and materials used here. Also make sure you look for any visible signs of abnormal wear and tear.
Should you buy a home that needs roof repair?
Ultimately, only you can make this decision, but most experts believe that you shouldn't be deterred from doing so especially if the damage has been or can be repaired. When a home is being inspected during the sales process, simply make sure you get a quote from a licensed contractor like Done Rite Roofing, Inc. They can tell you how much the work will cost and then you can either have the seller pay to make these roof repairs or you can subtract the cost from the purchase price. You should never let the sellers make the repairs though because it's in their best interest to find the cheapest work possible, which could result in poor quality.