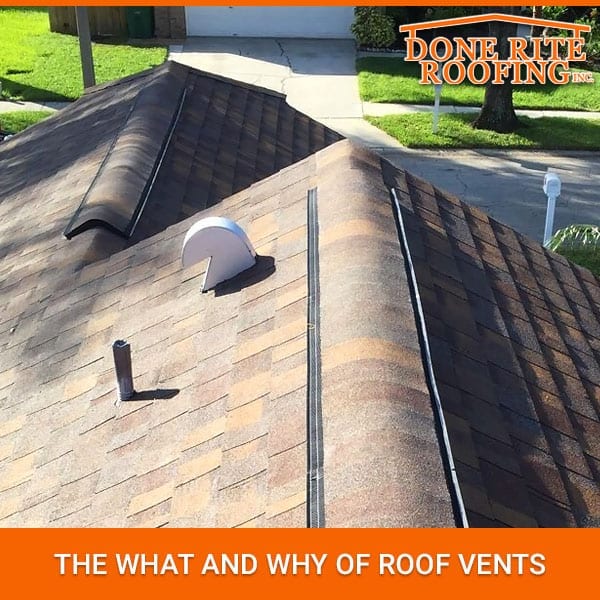 Florida's weather is both warm and pleasant, which is what makes it so attractive. However, this is something you must take into consideration when you're looking to build, buy, or renovate a home in this area. There are some special things you should be on the lookout here for – such as roof vents. While you may not think this is necessary, Florida gets a lot of rain and thunderstorms, especially during its humid summer months. Throughout this time you'll want roof vents to keep your home cool and stop your roof and ceiling from being damaged thanks to the great ventilation they can provide.
The Importance of Proper Home Ventilation
There are two types of roof vents you should know about today:
Intake vents let the air outside your home enter areas of ventilation, which is why they're found along the lowest eave or near soffits. Since they're necessary for the free movement of air, make sure they remain unblocked by nature or insulation. Of course, you don't want them to let precipitation, animals, or insects in though.
Exhaust vents are found along the high points of your roof (e.g. the assembly ridge). It is their job to let the air inside your attic and ventilation spaces leave your home and as such they're responsible for working side-by-side or hand-in-hand with the intake vents. Several different types of these are available including ridge (found along the length of your roof), static (installed near your roof's ridge), gable-end (installed in the building's walls), turbine (rely on wind to rotate the fan blades found within them) and powered (exhaust fans that are mounted on the roof).
Together your intake and exhaust fans work to achieve an optimal natural convention. Of course, this will only work when you have the right ones installed. They really are interdependent of one another and together they play a very important role in your home – even though they're oftentimes overlooked by homeowners.
Why This System is so Important
There are various functions that roof vents serve, which is why their importance depends upon their use. When you want to choose the best option for your home in Florida, you should start by considering your home's roof design. Of course, it's also important to look at how air flows throughout your home. These are things that your vents will help improve, which will in turn help increase your home's life expectancy. You'll also see improvements when it comes to the cost of your utilities and how much damage your home sustains after a tropical storm (in terms of moisture and condensation).
Who to Turn to and Trust for Your Roofing Needs
One company that truly understands the importance of roof vents is Done Rite Roofing. Whether you're having a new roof put on or just need to make some repairs to your existing roof, make sure you give them a call. Many highly satisfied Floridian homeowners have done so over the years and have been glad they did. You should be next on this list.