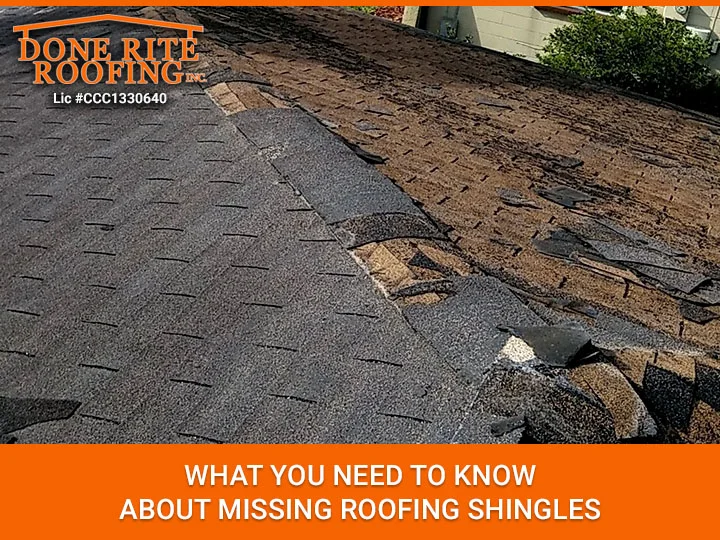 Unfortunately, when you're thinking about making a roof repair it isn't for "fun." While you'll want to know about the work required and the cost you'll incur, you can leave most of the work involved with your shingle roof to the pros. The main thing you need to understand is you need to act soon. Waiting any longer will simply make the problem worse because missing shingles make your roof vulnerable. This is just one of the many insider tips you'll want to heed here.
Don't Neglect Missing Shingles
Your shingle roof is probably out-of-sight-out-of-mind but there are some risks you need to be aware of when it's missing shingles, including:
Rainwater can seep into your roof causing major problems (e.g. insulation, a weakened structure, foundation problems)

Damage to a small patch of a roof during a rainstorm can leave the layers between the exposed roof sections soaked

Water damage can cause cracks, caving, and wall breakage

Dry, hot air and changing temperatures can stretch and wear down weatherproofing and layers of adhesive beneath the tiles of the roof causing them to lose their ability to protect your home
All these things make roof repair vital.
Making Sure Your Home is Safe When it's Missing Shingles
Repairing your shingle roof sooner than later is important when it comes to keeping your home safe and secure. You don't want mold or a weakened foundation, but you also don't want to put yourself in danger by climbing onto your roof. You probably don't have the proper equipment or expertise for this type of DIY project, so let a professional handle it for you instead. This also allows you to get the job done faster. They'll also catch issues you might not be able to identify. This is important when you're missing shingles because you'll typically have other, invisible problems too.
Learning how to Replace Missing Roof Shingles
There are a few other things you need to also remember so you get the best shingle roof repair possible. These include:
Don't use patches. They're superficial "band-aids" that won't fix the problem nor will they last long. They can lead to more serious damage to your home's structure too.

Hire a roofing expert to properly nail or glue your 

roofing tiles

 exactly where they need to go.

Save money in the long run by getting the job done right the first time.

Don't put this job off. The longer you wait, the more serious damage your home will incur. Of course, once this happens you'll also find yourself paying a lot more money than you would have initially paid.
Choosing Trusted Experts for Your Roof Repair
At Done Rite Roofing Inc. our roofing professionals have extensive experience fixing a shingle roof. We'll start by inspecting your roof to find any underlying problems and damage. Throughout the process, we'll you updated and answer your questions always striving to make sure the roof repair fits well within your budget. So, contact us to get started with a free estimate.