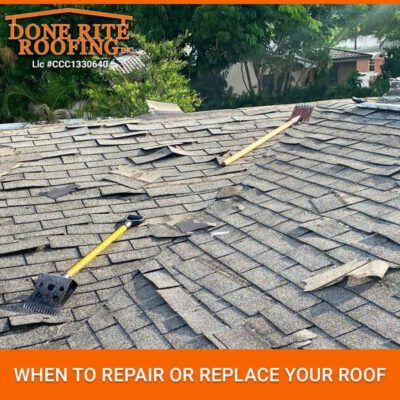 Roof repair and roof replacement can be a huge project, so it's important to know some basic information before you call a contractor. For complex jobs, it's important to make most of the big decisions before you even hire a roof repair company. In this article, we'll go over some of the basics of roof repair so that you can make the best decisions when it comes to taking care of your roof and home.
The first decision you have to make when you notice damage is whether it can be patched or repaired, or if it is time for a roof replacement. Some leaks or weak spots can be patched over, more structural problems mean you're likely looking at a full or partial reroofing. With re-roofing, you'll also have to decide if you want to cover your existing roof or tear it out and replace it. We'll go over both the options with more detail below.
Roof Replacement
Making good decisions about your roof is what will save you money in the long run, and that means knowing when to get your roof replaced. Even if only a few parts of your roof are showing signs of damage, it may be cheaper, in the long run, to pay for one large repair or replacement rather than several smaller ones over the next few years. However, there are a few things to take into consideration.
The first, of course, is the upfront cost. Make sure you know how much you would be paying to replace, for example, one side of your roof compared to all four. If it turns out that you would be spending less per side by replacing all four, it's worth looking at the age and likelihood of future damage to your roof as well.
Make sure you know when the last roof replacement on your home was and use that to help you decide if it's time for another one. For example, if you last replaced the roof 18 years ago, and the shingle lifespan was supposed to be 20 years, it's probably time for a full replacement as soon as you notice leaks or damage. A patchwork system of repair may be less upfront cost, but it's often more expensive in the long run.
An older roof is also more likely to use out-of-date nails which may make your roof more likely to be damaged in high winds. Getting a full update at the first sign of damage may well be a huge cost-saver especially if you live in an extreme climate.
Tear-Down vs Cover-up
There are two ways to replace a roof: tearing up the old one and covering it up. Both have pros and cons.
Tearing up your old roof is great if you only have one layer of asphalt shingles and can actually end up saving you money. Yes, you'll have to pay for the cost to remove them, but you could save money for a couple of reasons. First, especially if you live in a windy climate, nailing shingles directly to the roof deck is a stronger way to build. Second, exposing your roof deck makes it easy to catch damage that would have otherwise remained hidden until it became a major (and costly) issue.
Conclusion
Replacing or repairing a roof can be a big project, but done right, it can save you money, time, and stress further down the road. A roof is an investment, so it's important to take damage to it seriously and to act quickly. If you're looking for quality roofing contractors near you, reach out to Done Rite Roofing for an estimate.