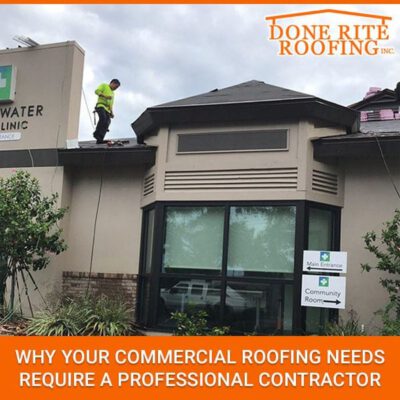 There are many challenges that arise with commercial roofing that you'll never encounter while dealing with residential roofing. For instance, in Florida this roofing must lie flatter than it would on a residential home while also meeting the needs of the commercial business itself. This is just one of the many reasons why placing a roof on a commercial property is a much larger investment than what you'd invest in putting a roof on a residential property. As such, it's vital for your business to hire a licensed professional roofing contractor for this project.
Understanding Your Roofing Needs
By now you've probably come to see and understand that commercial roofing has greater needs and demands than residential roofing. Since the roofs on most commercial buildings are flat, they are typically more difficult to install and maintain than a slanted residential roof. Although you may be able to find an inexpensive roofer who's able to do a great job here, you're much better off to pay someone to handle the increased demands of the job correctly the first time. By choosing a licensed roofing contractor in Clearwater, Florida your job will also be completed much faster. These contractors can also help you make choices to improve your business' energy efficiency and eco-friendliness along the way. By making these choices you'll prevent your HVAC system from working overtime. You can also rest assured that your new roof will be able to meet your business' specific needs since it was built with them in mind.
Understanding the Importance of Commercial Roofing
When you own a business, you must pay constant attention to your bottom line. Oftentimes this means that you must find ways to save money in everything that you do. One way you may think you could save money is by working with an inexpensive roofing contractor. Unfortunately, nothing could be further from the truth. In fact, you will probably find yourself having to pay even more money in the long run. Of course, an expensive roofing contractor will require you to pay a little extra money up front, but you'll know that your roofing project is being completed by a licensed, experienced professional. You'll also know that these professionals will only use equipment and building materials that are of the highest quality. Ultimately all this means that your roof is built to last instead of requiring repairs in just a few years.
Making Sense of Everything
If you live in Clearwater, Florida the commercial roofing contractors at Done Rite Roofing, Inc are here to help you. Since your roof is a major construction or renovation project, you should leave the installation or repair of your business' roof in their more than capable hands. So, when you find yourself in need of this service make sure you pick up your phone and call them immediately. Their highly experienced team of contractors will work closely with your business to make sure that your roof is able to withstand the demands of your business. Don't wait, contact them today.