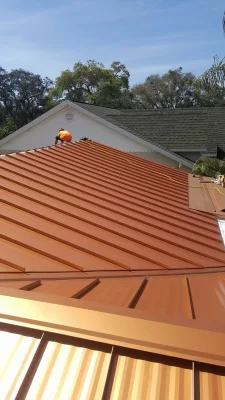 Eventually there will come a time when your home will need a new metal roof. This may even be the first time you've ever considered installing this type of roofing on your home. In either case, doing so can result in long-term savings.
Benefits of a Metal Roofing System
As you stop to consider the benefits of this roofing system, you'll find that there are many of them. These include:
Energy efficiency: Typically, a metal roof has coatings that reflect the sun away from your home so that you don't have too much heat enter your home. The nice thing about this is that your air conditioner doesn't have to work overtime so you won't have a huge electric bill.
Lower insurance rates and premiums: You'll pay less because there's less likelihood of structural damage. This is because these roofs are resistant to high winds and fire.
Various colors to choose from: You're sure to find a color that appeals to your tastes and matches the style of your home too.
Weather resistance: Whether you're concerned about heavy rain, hail, high winds, or extreme heat your new roof can easily endure all these things.
Environmentally friendly: Since these roofs can reflect the sun and cut down on your air conditioning bill by as much as 25%, they're also considered environmentally friendly.
Types of Metal Roofing
Now that you can clearly see the many benefits surrounding installing a metal roof, you'll want to choose the best system for your house. When your home is located in Tampa Bay, Florida there are two great options. These include:
Standing seam roofs have ribs that stand up where the panels connect. These allow moisture to run down the panel instead of seeping into the seam. As such, the seams stand out further, making them more visible.
Corrugated metal roofs have interlocking rippled metal sheets that are fastened directly to the roof's sheathing. In the past, this was only used on industrial and farm buildings. However, it's gaining popularity today.
When you're ready to install a new metal roof in Tampa Bay, Florida, you'll want to work with a company you know you can trust. At Done Rite Roofing we've been in business for many years now, establishing a long list of highly satisfied clients. We're so sure that we have what you want that we offer free estimates. Call and schedule one for your home today.